Orientation of Apollo Tyres Foundation Health Centre Teams on TB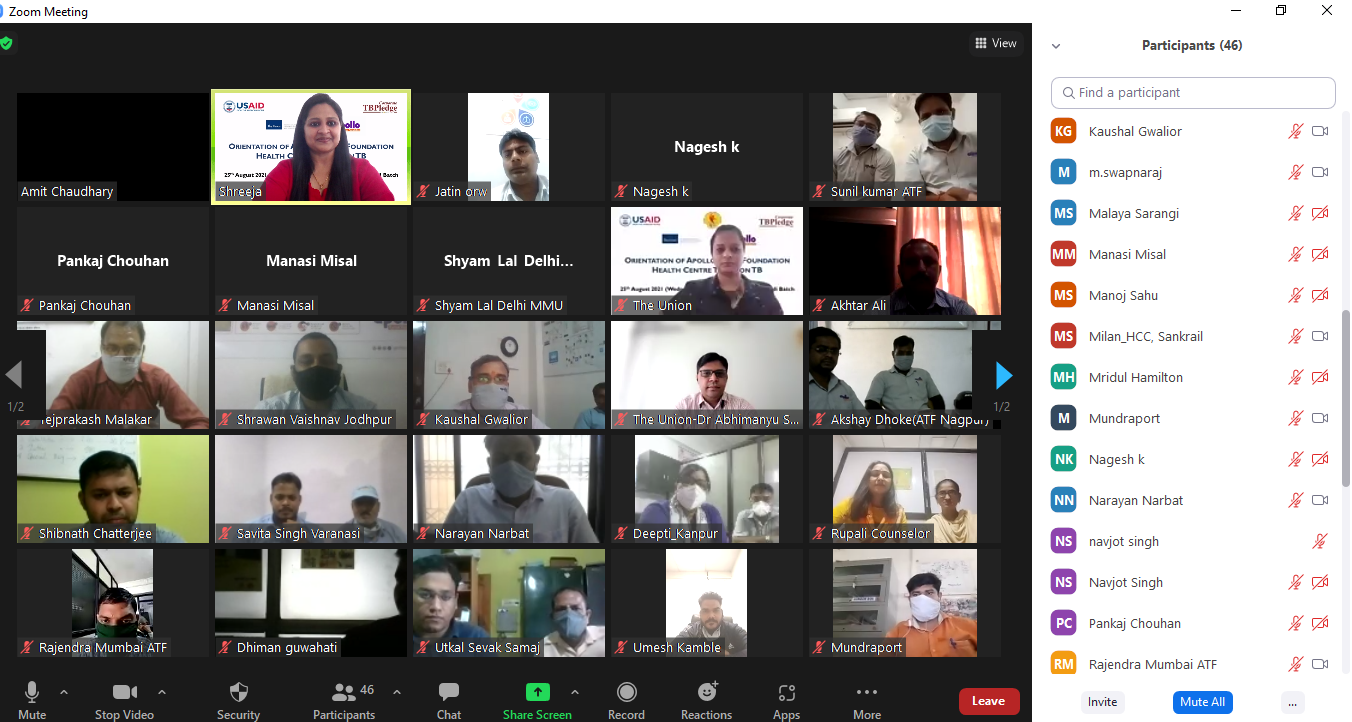 Apollo Tyres Foundation (ATF) is a diamond member of Corporate TB Pledge and has been actively extending TB services to trucking community and the allied population through their health centres in 31 locations spanning across 19 states in the country. Its TB related services, primarily aims at awareness generation, early diagnosis and treatment adherence to reduce morbidity and mortality due to tuberculosis amongst the trucking community.
ATF has been successfully conducting TB Free Transhipment campaigns which aims at focussed 2-week long campaign for increasing screening and testing of TB among trucking and allied communities. During these campaigns, ATF has been able to screen close to 98,000 people and test close to 2000 TB symptomatic people. Owing to its success, a similar initiative is being organised by Apollo Tyres Foundation, namely, "Apollo Tyres Foundation Jan Andolan TB Free Transhipment Locations Campaign (Edition 3)" from 9th to 25th September 2021. The 2- week long campaign is targeted at the truckers and allied population at 31 transhipment locations in 19 states of the country.
In order to capacitate ATF's health centre staff to organise screening and facilitate testing more efficiently and effectively during the campaign, orientation sessions were organised in two batches (Hindi and English) on 25th August 2021. A total of 122 staff from ATF were oriented through the two batches (Hindi batch - 96 participants; English batch - 26 participants).  The participants were Apollo Tyres employees from its health centres across India. They included community mobilisers, pharmacists, lab technicians, programme coordinators, doctors etc. Locations include Delhi, Maharashtra, Gujarat, Tamil Nadu, Kerala, Andhra Pradesh, Uttar Pradesh, Kolkatta, Assam, Agartala etc.
The aim of the session was to appraise the participants on basics of TB, symptoms, active case findings, basic diagnostics available, government schemes, Sputum collection and Transportation, DRT-TB etc. The virtual orientation session commenced with welcome address by Mr.Amit Ranjan Chowdhary, Program Lead-TI (Pan India)-Corporate Social Responsibility, Apollo Tyres Foundation; followed by a presentation on Corporate TB Pledge by Ms. Shreeja Nair, Technical officer- Corporate Partnerships, The Union. This was followed by a technical orientation session on basics of TB by Dr.Abhimanyu, State Project Coordinator, iDEFEAT TB, The Union for the Hindi batch and by Dr.Rakesh P.S., Sr.Technical Advisor, Institutional Strengthening and PMDT, iDEFEAT TB Project, The Union, for the English Batch.
Orientation sessions was very well received by the participants.
Orientation of Apollo Tyres Foundation Health Centre Teams on TB